We deliver premium coffee directly to your door.
Our superior beans can be delivered to any UK address.
The Beans Behind The Brands
We hope it's not immodest to say that our coffee is brewtiful. This is why we have been supplying top high street brands, such as Harrods, with our signature blend since 1991.
Packaged Your Way
We recognise that everyone is different. This is why we will grind and package our premium coffee to match your personal tastes, meaning you can enjoy your coffee exactly how you like it. This way, we can be sure that it will meet with your abrewval.
Our Signature Blend
The blend we use is unique but we're willing to share it with our friends. It contains beans from Columbia, Brazil, Ethiopia (washed) and Indonesia – how much of each is used to create our signature blend remains our trade secret, though (sorry).
"The coffee is roasted and ground for use in our coffee maker at home, and delivered to our front door, making it so easy!"
Sharon L, London, England
"I have always loved Andronicas coffee, and the service I have received has always been great!"
Beverly B, London
The Blog
Our blog is full of the latest news and products. Catch up now.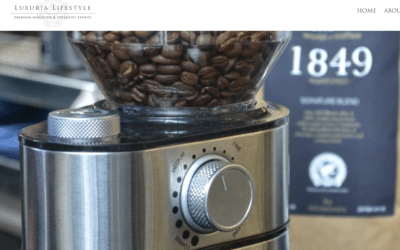 Andronicas' state of the art coffee grinder appeared in the January issue of Luxuria Lifestyle. Read more here.
read more
A hybrid coffee shop and pizzeria is due to open in Newent, just in time for the Christmas season. Located in the former Red Lion pub, Bar & Kitchen will occupy a prime location on Broad Street and its owner says it will add a new dimension to the high street. "We...
read more